Serving Southwest Florida for over 60 Years
CS&L CPAs is a full-service public accounting firm that was established in 1954. We provide taxation, accounting, auditing, and consulting services to individuals, businesses, and organizations. CS&L is a widely recognized name in the community due to the outstanding reputation of our founding partners: Bob Christopher, Rick Smith, and Ed Leonard. We are comprised of approximately 55 professional staff members, including six Principals, between our offices in Bradenton, Sarasota, and Tampa.
We pride ourselves on our commitment to understanding each client's unique situation, providing a high-quality service experience, and offer exceptional solutions based on our clients' personal goals or business objectives. Our Principals and staff are highly involved in the surrounding communities; many serve on local non-profit boards, frequently attend community meetings and events, and support a variety of charitable activities.
We are a member of CPAmerica, Inc., which allows us to offer our clients the best of both worlds: The attention of a local firm with the knowledge and resources of an international association.
"Best Firms for Equity Leadership"
Accounting MOVE Project
"Small Business of the Year"
Sarasota and Manatee Chambers of Commerce
"Best Place to work in Tampa Bay"
Tampa Bay Business Journal






Mission Statement
CS&L CPAs is a public accounting firm where understanding your unique needs and creating exceptional solutions is our highest mission.
Our Clients
We pledge to provide the finest level of personal service and technical expertise to exceed your expectations
Our Firm
We will foster an enjoyable workplace based on open communication and mutual respect, while encouraging initiative, excellence, teamwork and loyalty
Our Community
We will continue our 60+ year tradition of service and leadership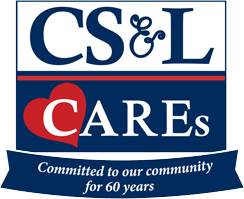 For more than 60 years, CS&L has been committed to positively impacting our surrounding communities and providing assistance to local organizations.